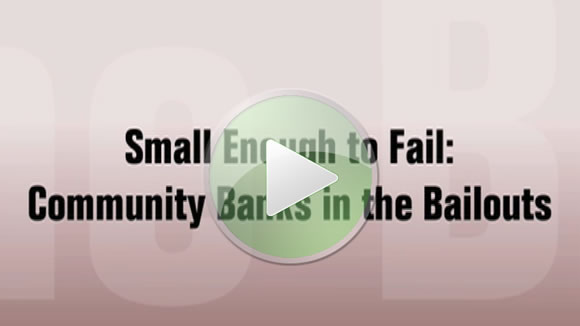 click here to view video (Flash)
click here to download high-res Apple QuickTime (426 MB)
Small Enough to Fail: Community Banks in the Bailout
On Wednesday, June 10, 2009, EPI hosted the first of a series of forums on the financial crisis.
Featured speakers:
William C. Dunkelberg, co-founder and Chairman of the Board of Liberty Bell Bank, Cherry Hill, N.J., and Professor of Economics at Temple University
Christopher Whalen, managing director of Institutional Risk Analysis, a private firm that tracks bank performance
Karen Thomas, Executive Vice-President, Government Relations, Independent Community Bankers of America
Moderated by:
Nancy Cleeland, Director, EPI Bailout Analysis Project
Although news of the financial crisis has been dominated by a handful of mega-banks deemed too big to fail, the U.S. banking system is actually comprised of more than 8,000 independent banks, the majority of them small and serving local communities.
That number has been in steady decline through two decades of deregulation and consolidation, and the ongoing financial crisis is certain to accelerate the trend. More than 36 banks have failed so far this year, and many more failures are expected as troubled commercial and industrial loans come due. Panelists explained how the government's response to the crisis may be making big banks bigger while putting small banks at a disadvantage, and discuss the implications for the stability of the financial system.
–